Last update June 11, 2016
Now the program of ThermoMed2016 is available here.
Welcome to ThermoMed.org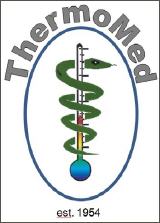 Welcome to ThermoMed - International Society of Thermography and Thermology, established 1954 in Germany.

With the accumulated knowledge of more than 60 years of medical thermography and infrared imaging, our association meanwhile grew all around the world and has members in many countries, from Europe to New Zealand.

This website has been relaunched in October 2015, and more content will be added from time to time.

Due to our international members and activities, this website will be mostly in English language. We would like to ask our German speaking members to excuse the change in language. We have not enough manpower to set up a bi-lingual website.

Wir bitten unsere deutschsprachigen Mitglieder und Besucher um Nachsicht, dass diese Homepage nunmehr überwiegend in englischer Sprache abgefasst ist. Leider haben wir keine Kapazitäten für die Einrichtung und vor allem die Pflege einer zweisprachigen Homepage.

Sie erhalten jedoch hier weiterhin die bisherigen deutschen Inhalte.
Website Visitors







Keywords
Website Keywords

medical thermography, thermography, infrared imaging, infrared imaging, breast cancer, breast cancer, rheumatology, vascular, angiology, rehabilitation, health, prevention, mammahealth, mammohealth, hyperthermia, therapy